The Data Warehouse's changed dramatically
The concept of the "business data warehouse" dates back to the late 1980s when several software companies developed a framework for building decision support systems.
Traditional data warehouse systems have evolved over time as overall computer performance increased. This evolution has allowed businesses to collect more data from more disparate sources and ultimately do more with that data. But the pace of change in the data center today isn't making these systems any easier to manage.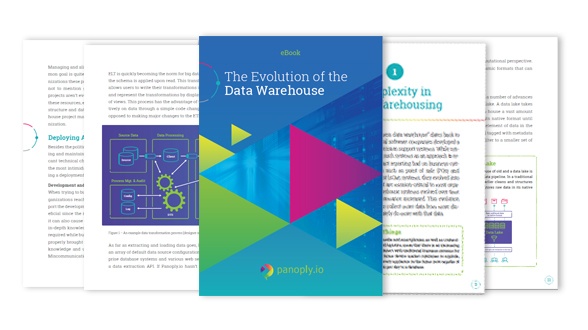 A new type of Data Warehouse is arising though. Cloud computing, the great democratizer, has allowed to create new paradigms that align with other general IT trends like Big Data, Virtualization or Security.
In this 40-page eBook we will review the story and the evolution of the data warehouse, as well as the major challenges that these systems are currently facing:
Data Warehouse architecture and key concepts in a nutshell (ETL, ELT, Data Lakes...)
Major Trends in computing affecting data and data infrastructures
Complexity in current analytics systems: systems management, performance constraints, storage optimization, etc.
Cloud economic model: Capital expense vs operational expense
Panoply.io as a cloud-based, end-to-end data management system that addresses these challenges through an innovative self-optimizing platform.